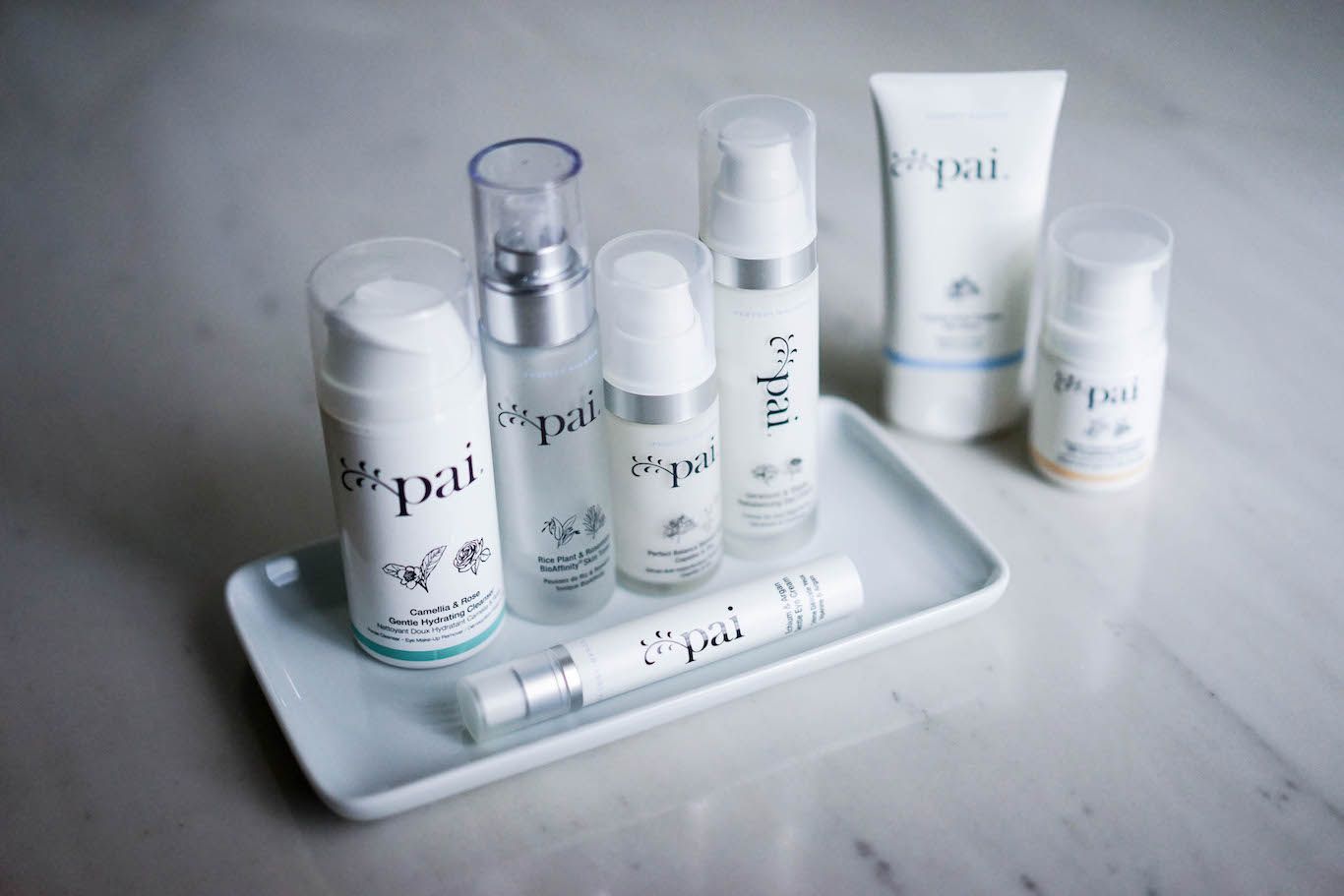 Pai Skincare's been on my radar for a long time but other than
the
cult clean beauty cleanser and exfoliator, I only introduced a full line-up to my arsenal in mid-January.
Pai was created as a pure clean plant-based line for sensitive and allergy-prone skin. All ingredients are certified organic by the Soil Association, and founder Sarah Brown places significant emphases on the line's ability to soothe, and on transparency in disclosing ingredients. The British brand's been a powerhouse in introducing organic skincare to the masses, and is loved by a whole host of celebrities from both sides of the Atlantic. The cleanser was also one of my first forays into clean beauty!
There are four ranges for different skin types:
Instant Calm for hypersensitive or redness-prone skin;
Perfect Balance for combination, oily or blemish-prone and sensitive skin;
Pure Hydration for dry or dehydrated and sensitive skin; and
Age Confidence for very dry and sensitive skin or to combat signs of ageing.
I generally don't have allergic reactions, but my mother and sister have sensitive skin and as I mentioned in my last post, in 2015 I had a spate of episodes of non-stop tiny whiteheads on my cheeks, and underarm rashes.
When I started a new job early this year, I added the Perfect Balance range to combat what seemed to be an endlessly rebellious breakout. Here are my (long rambling) thoughts on everything, save for the Rosehip BioRegenerate Oil which I've yet to try!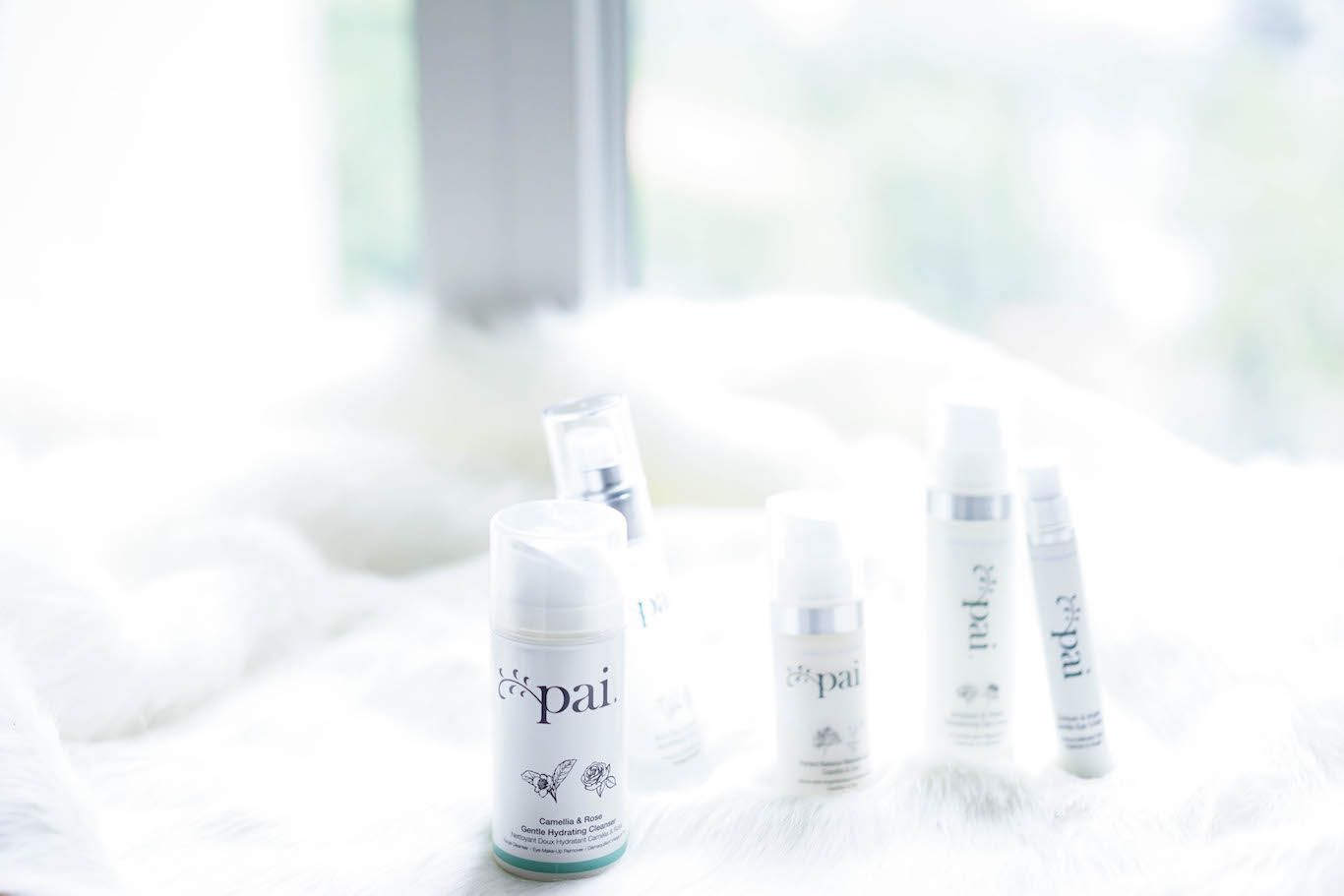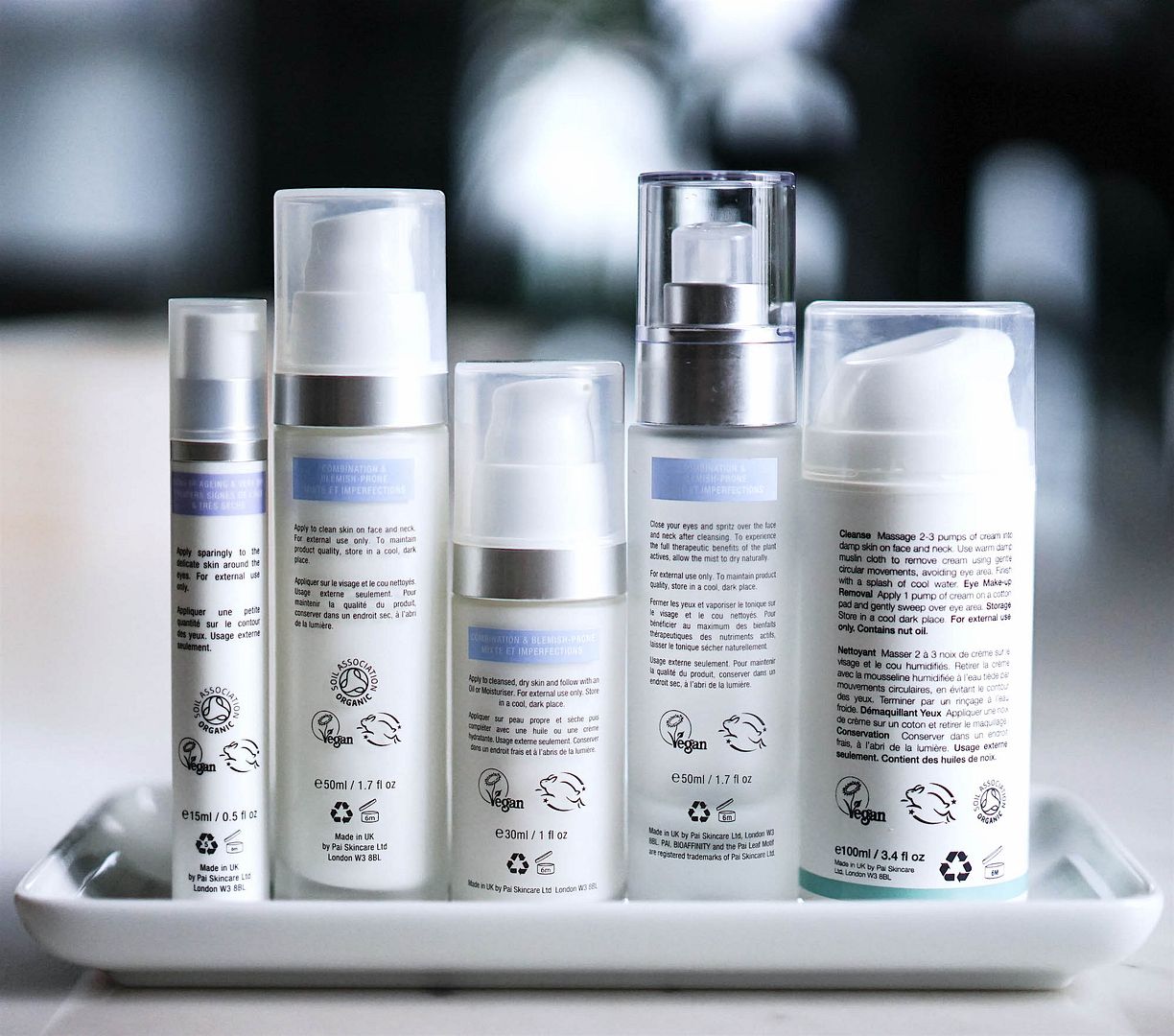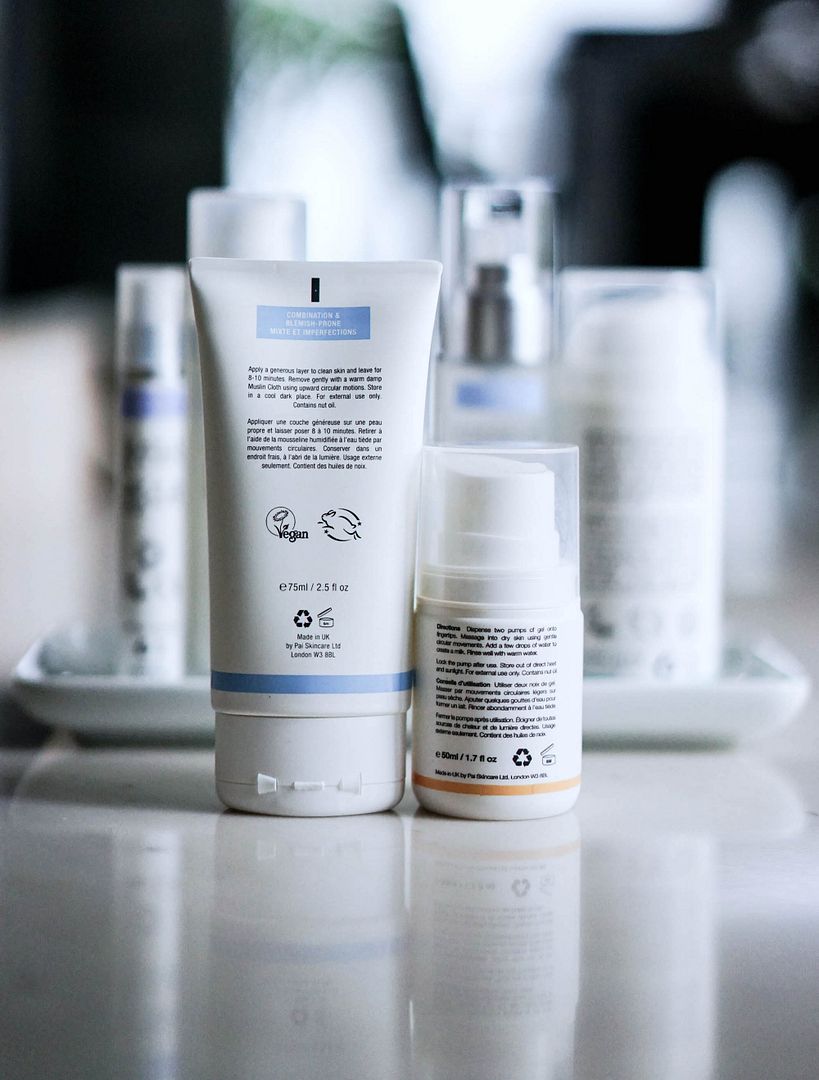 Camellia & Rose Gentle Hydrating Cleanser (100ml, £28, also available in 200ml, £38) + bamboo muslin cloth (now Dual-Effect Sensitive Skin Cloth)
For all skin types, with nourishing antioxidant-rich camellia and damask rose otto oils, this is a light cream cleanser that relaxes and soothes on application. 100ml gives about 1.5 months of twice daily use. It thins out fast so I use about 2-4 pumps depending on how grimy my face feels.
Double-cleansing with this isn't enough to get all makeup and SPF off (I wear base makeup for 12-16 hours a day), so I use micellar water to remove makeup before. Otherwise, this cleanser definitely lives up to its name as my skin feels plump and less irritated after.
Each bottle comes with an organic cotton muslin facial cloth. These travel well as they're thin, large and dry fast. I'm on my third muslin, but Pai's just launched their new Dual-Effect Sensitive Skin Cloths – one side muslin, the other side soft terry. I'm excited because I've always loved the Emma Hardie Dual Action (muslin & microfibre) Professional Cleansing Cloth and now Pai has a similar version! They're available separately at £12 or AUD24 for a multipack of three :)
Rice Plant & Rosemary BioAffinity Skin Tonic (50ml, £30)
Next to the cleanser, this is my favourite Pai product! The BioAffinity Skin Tonics are a unique alternative to traditional harsh stripping toners, containing pure vegetal waters extracted from within plants themselves: blends of hydrosoluble vitamins, trace elements, mineral salts and amino acids. The rice plant and rosemary "living waters" have anti-inflammatory properties and are natural astringents to reduce the appearance of pores. After cleansing, I spray once on each side of the face. I only wish this came in a bigger size for its price as I used this very often. Disappeared after 1.5 months of twice daily use. If I'm spending the day at home, I usually don't even follow with a moisturiser as the Skin Tonic is that hydrating.
At first I was a little put off by the strong (fermented?) herbal scent, but it grew on me and is a refreshing start to the morning 🎶
Copaiba & Zinc Perfect Balance Blemish Serum (30ml, £42)
Pai recommends using the serum 1-2 times weekly or daily up to a week as an intensive treatment. I tried both ways but didn't experience the amazing reduction in blemishes other users have. In fact, I healed better after I stopped using this. I might have benefited from mixing a face oil in for a microemulsion, but on its own, this is a no-go for me.
As the serum purports to reduce sebum production by up to 65%, it was drying for my dehydrated combination skin despite the presence of humectants like sodium hyaluronate (i.e. sodium salt of hyaluronic acid that has a smaller molecule size and penetrates skin better than hyaluronic acid). Maybe the second-most ingredient, lemon water, contributed to that effect.
Pai states that this should be used at night, I assume partly because the serum contains phototoxic citrus oils, which give the serum its scent. (Note: not all citrus oils are phototoxic – depends on the citrus fruit and the way the oil is produced!) For a treatment product, the fact that it contains water, glycerine and two emulsifiers in the first 6 ingredients doesn't recommend itself.  If you have truly oily sensitive skin this might work. I'd use another treatment product if your skin isn't sensitive and requires more potent care.
Geranium & Thistle Rebalancing Day Cream (50ml, £34) 
Not your typical moisturiser for blemish-prone skin, I found this day cream to be thicker than expected. It does not flow. One pump (two max) cocoons your face and neck for the day, but isn't pore-clogging and sinks in well. I apply this straight after cleansing and toning and let sink in before sunscreen and makeup. Doubles as a primer for busy girls! Over this, my Gressa foundation only starts to, ah, congeal after 8-9 hours without reapplication, powder, or blotting.
I've been dreading the day I finish this. Tough to tell as the opacity of the bottle doesn't give you any indication *cries* but it's been 3 months of almost daily use and I'm still getting full pumps! My go-to when skin is freaking out, this is a serum-cream to rebalance and clear congested skin, thanks to jojoba, thistle, lavender and geranium oils. My new lighter acne scars have also faded.
According to my WAY skincare device, my skin moisture level is "excellent" after I use this day cream 👌🏻 the light lavender and geranium scents provide aromatherapeutic benefits to reduce anxiety and stress. Overall, a top pick to combat hormonal acne.
Echium & Argan Gentle Eye Cream (15ml, £30) 
I have brutally dark and puffy eyebags, thanks to squinting at a monitor 8-12 hours a day and 5-7 hours of sleep daily on weekdays. And every member of the family on my mother's side has the same brutally dark and puffy eyeballs. The eye cream doesn't really do much to brighten (not sure what will…) but has the texture of freshly churned soft butter, and imparts a cooling sensation that feels sublime on the puffy morning eye area, or at the end of a long day. Concealer applies smoothly over. The pump dispenses half a pea of eye cream which is too much even applied generously as instructed. It's also difficult to control the pump to dispense the quantity I need, so I usually pat the excess onto my neck.
I had never heard of echium before this, but it's reported to have very high levels of essential fatty acids, omega-6 Gamma Linolenic Acid (also found in evening primrose oil and traditionally valued for treating swelling) and omega-3 Stearidonic Acid, which reduce fine lines and wrinkles, and combat inflammation.
While the eye cream is under Pai's Age Confidence line, it's suitable for all skin types. Just adjust frequency and dosage. A good starter eye cream if you're in your 20s and haven't started applying any on a regular basis.
Kukui & Jojoba Bead Skin Brightening Exfoliator (50ml, now comes in 75ml, £24)
I ran out of my second bottle two weeks ago and skin's looked duller ever since. This is a slightly sticky sunflower yellow gel that needs massaging to melt over dry skin. I spend a minute working two pumps in, especially between eyebrows and over the nose and chin areas, add a few drops of water to turn it into a milk and massage for another 30 seconds or so.
The scent is incredibly uplifting (ok no other way to say this, but the gel smells like a fresh fruity version of Korean laver! Yum) and there's no resultant irritation (i.e. from micro tears in the skin) thanks to perfectly spherical jojoba beads. There are a lot of tiny beads that aren't easy to wash out of the hairline. I leave the exfoliator on during a warm shower and wash off at the end for an extra boost of hydration from the Kukui and other plant oils. Gentle and hydrating enough to be used daily if required, to keep a smooth-appearing and brighter visage.
However, if you're seeking a solution to blackheads/sebaceous filaments, this exfoliator doesn't dissolve the clogged bits.
Copaiba Deep Cleanse AHA Mask (75ml, £30)
For tropical weather induced blackheads/sebaceous filaments, the mask does a little more than the exfoliator, with pink pomelo (i.e. grapefruit) AHAs to slough off and dissolve those nasty plugs of dead skin cells and sebum, and lots of good stuff for anti-blemish action like Kukui oil, açai oil, copaiba resin, frankincense oil and May Chang oil.
I smear thick globs of this on – about 2 teaspoons worth, but sensitive skin types can use 1 teaspoon. It's a cream textured AHA clay mask that somehow doesn't dry out or stiffen up. It's not the end of the world if you forget to rinse off within 10 minutes. How do I know this? I, ah, once fell asleep in this and rinsed off only 4 hours later and my skin didn't feel or look like a desert! Not recommended but FYI in case it happens to you. And now you know that this mask is so comfortable it's possible to forget it's on your face.
Big warning: the kaolin usually pulls up gunk within the next day, which is great if you like a good purge and know how to perform proper extractions, but not so great if you have a big client meeting or a fancy dinner event.
After I introduced my skin to peels (and Alpha-H Liquid Gold) in 2013, it's become pretty tolerant of AHAs, etc., so this mask was a light walk in the park – lovely to use but not comparable to a proper workout to eliminate blackheads or slow down sebaceous filaments. If you're just starting on acids, this would be a good pick.
Note: as lactic acid is the second last ingredient on the list, I doubt it works actively to exfoliate.
//
What I liked about the Perfect Balance range surprised me, as I've been trying to follow a 10 step routine for months (which can be effective with the right combination of products) but I could pare down to 4 + SPF daily under this range. The cleanser, tonic, cream, eye cream and a sunscreen are really all you need, along with the exfoliator and mask 2-3 times a week. (Ok maybe add a face oil in there – really should have purchased the Rosehip BioRegenerate Oil too!)
My overall summary on Pai? If you're just starting on organic skincare or have sensitive skin, it's an excellent line to start with.
One last point on Pai's formulations: in almost every product, purified water, vegetable glycerine and an emulsifier show up in the first 6 ingredients. Definitely dilutes active ingredients for sensitive skin but means potency is watered down, which could be a good or bad thing depending on the other products you're using or your skin type.